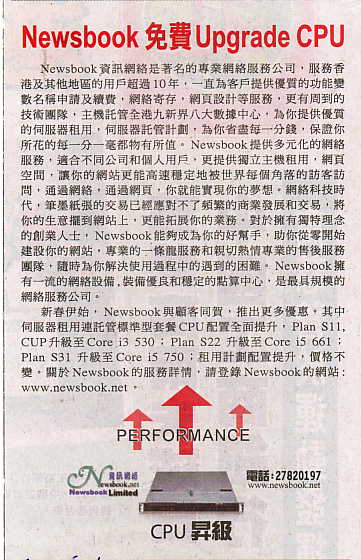 1. Newsbook Hong Kong server rental and colocation discount in Spring Festival, setting upgrade for free
2. Newsbook setting of server rental and colocation plan free upgrade
3. Newsbook setting of server rental and colocation upgrade, quality of service is excellent.
Newsbook Limited professional network services on business for many years. With excellent reputation and sophisticated technology, newsbook have a large number of customers. Newsbook has been offered internet services to Hong Kong areas for over ten years. With excellent web design and professional website building technology, is well-known in the industry. Newsbook provides special services of introduce product of personal or company to a large number individual customers or company customers. Register a domain in newsbook, you can enjoy the service of webpage design and technical helping in building website by yourselves. You can upload or download everything in your website easily, and modify it freely. There is not so difficult to using the internet, with newsbook's help, you can make your web building dream come true. If you have a page for you, you also could hosting your website in newsbook with high speed and stable server, making your website more easy could be found through all over the world. 7days and 24hours, your products will be searched and released on the internet. We have eight data centers in Hong Kong, throughout the territory. Customers can choose each they like to host in. Newsbook has a professional technical team, solve problems professionally during the using times, set your peace of mind at ease!
Thankful for customer, newsbook upgrade the setting of server rental and colocation Plan. Basic Plan B36, Standard Plan S19 is 2 times larger than old plan, hard disk upgrade from 250GB to 500GB; Standard Plan S21, S39 upgrade from 500GB to 750GB. Capacity and service quality is upgrade. New Newsbook provide you with the best reputation in the network services, applications immediately and enjoy it!
Details about above of Newsbook, please browse Newsbook website: www.newsbook.net, or phone to 27820197 inquires.